Find Buried PVC/PE Pipes Using Advanced Ultra High Radio Frequency.
Find Buried PVC/PE Pipes Using Advanced Ultra High Radio Frequency.
The All-New AML Plus™ is a scientific instrument that utilizes ultra-high radio frequencies to find differences in densities. This offers the best method for locating PVC & PE Pipes and nearly any other object that has an edge.
New Microprocessor Intelligence
Patented Radio Wave Technology
Lightweight Construction (2 lbs.)
High-Quality Headphones
Rechargeable Lithium Battery
Durable ABS Housing
9 Sensitivity Settings
3 Year Limited Warranty
USB Powered Port
SSI strongly encourages new operators to attend a factory training session in Green Bay, WI in order to fully understand the AML's capabilities, limitations, and to learn and practice various operating techniques.
HOW DOES IT WORK?
TECHNICAL SPECIFICATIONS
WARRANTY
DEMONSTRATIONS
TRAINING
HOW DOES IT WORK?
UNDERSTANDING ULTRA-HIGH FREQUENCY RADIO WAVES
The key to how the AML detects PVC/PE pipes and to identifying the size or length of a pipe is to understand how its radio frequency detects buried plastic and other objects.
Holding the AML's handle parallel to the ground, scan the area of the suspected pipe or buried object until one or both of the AML's target indicators activate.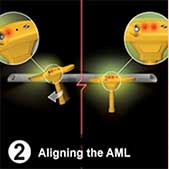 While the left or right target indicator is activated, rotate the AML until both LED target indicators light simultaneously, triggering the AML's tone and laser marker. This alert indicates that the pipe or object has been detected and that the AML is now parallel with the underground object.
With the AML in parallel with the pipe or underground object, you can now scan the entire length of the object's edge. As an alternative, utilize the "W" method of scanning by sweeping the area in a back-and-forth "W" motion, marking the object's location and run direction as it is tracked.
TECHNICAL SPECIFICATIONS
WARRANTY
DEMONSTRATIONS
TRAINING